Guide to Using Portable Apps
There's portable, and there is "really" portable. With a laptop you can carry all of your vital data and applications around with you, ready to be accessed whenever you want, while with a smartphone you can have much of the same data available to you, some smaller applications and a smaller screen and keypad.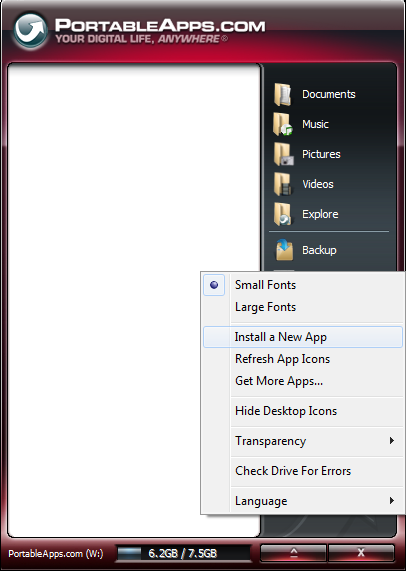 While both of these solutions are portable, they can't be described as "really" portable.
Rather than taking a laptop or netbook with you – or even a tablet – you can use Portable Apps as an alternative. This application provides a platform upon which your favourite apps and utilities can be used and accessed from a removable disk drive, allowing you to connect the drive to a computer at your destination and start using the tools straightaway.
Portable Apps will even allow you to make your email and bookmarks "portable", and therefore provides a handy alternative to lugging a laptop around with you all the time. As long as you have access to a computer you can take advantage of this utility.
Downloading Portable Apps
To get started with Portable Apps, head over to the website, portableapps.com, and signup. You'll only need to supply your email address and specify the type of device you're planning on using with the application.
Once you have done this, head to the front page and find to Download Now link and choose the download type that suits your requirements – the different packages feature different pre-installed selections of portable applications, so if you only plan on using one or two, pick Platform Only.
This will be a much shorter download than the other options, so when it is complete double-click the file to run the installer, where you can then choose your installation location; this should be your portable device. Once installation is complete Portable Apps will run, and you will see a window based on the Windows Start menu.
Downloading and Using a Portable App
With the platform installed and running, you will need to find some apps to install. All you need to do is go to the Applications link to browse through the list of apps to download. You might want to have your usual browser and email clients, or a game such as FreeCiv. Click the link for the app you want to download and use the download link to save it to your PC.
In order to add the app into Portable Apps, go to Options > Install a new app and browse to the location you downloaded the file to. Open the item and follow any on-screen instructions; the application will be installed to your removable disk, ready to be used!
The next time you connect your removable disk, all you will need to do is double-click StartPortableApps.exe to start the software.
Alternatively you might install the app without the framework installer – simply double-click the [AppName]_Portable_x.x.paf.exe file you downloaded and follow the instructions.