HTC Evo 4G Pre-Order Availability Increases – Buy From Radio Shack Before Release Date And Save!
Just Friday, we announced that the HTC EVO 4G would be available for pre-order through Best Buy. Since then, Radio Shack has opened up the option to preorder this hit cellphone ahead of time as well, along with an excellent incentive program.
If you haven't already ordered your EVO 4G, we highly reccommend you pre-order from Radio Shack. Here's why: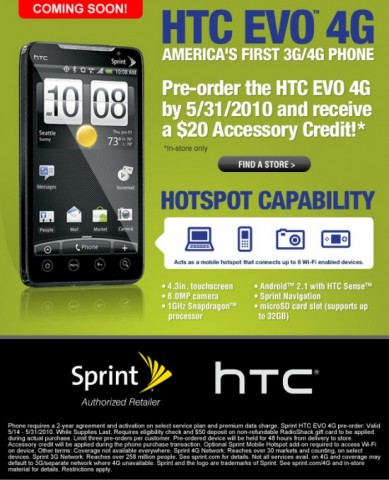 It's simple, really- if you pre-order your EVO 4G before May 31st,  you'll get a free $20 accessory credit, with which to buy anything from a car charger to a nice case. This is a nice bit of marketing on Radio Shack's end- their timing in releasing this offer just after Best Buy announcing their pre-orders couldn't have been better.
Where will you be buying your Evo 4G?