LG Ally "Iron Man phone" website goes online – revealing more details
If there is one thing lacking among the upcoming and current high end Android phones, it is the hardware keyboard. LG's new Ally smartphone may just be the answer to that. After being revealed a few days ago in a press release from LG about their Iron Man 2 media campaign, the phone now has a promo website complete with a lot of Iron man themed effects. Thanks to the website, we now know a few more details about the device.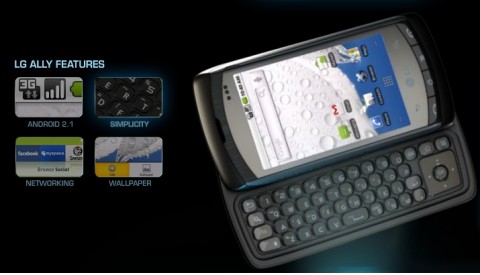 The LG Ally packs Android 2.1 operating system and has a 3.2 inch touchscreen along with actual hardware keys below the screen for "Call", "Home" etc. It will also come with a slideout QWERTY keyboard, a backside camera and a microSD card slot. The keyboard itself seems laid out pretty good with round embossed keys and comes with navigational keys as well. The keyboard also seems to have a couple of shortcut keys for the browser and some other functions. The LG Ally is rumored to be releasing on May 20th.
The website itself has some cool graphics and has a section with a rotating view of the phone. Go over to LGIM2.com to check it out.