WePad To Take On iPad With Android Power Come July
The WePad is an Android powered tablet device being worked on by Neofonie, and it is one of the best Android based contendors against the iPad. It was officially launched today in Germany and the hardware specs and pricing was revealed. Priced at €449 ( $611 ), the 11.6-inch WePad comes with an Intel Atom 1.66 GHz processor with 16GB of flash memory for storage, GMA 3150 GPU, WiFi Bluetooth and a 1.3 megapixel camera. There is also a €569 ($774) version in the works with 3G connectivity and 32GB of storage.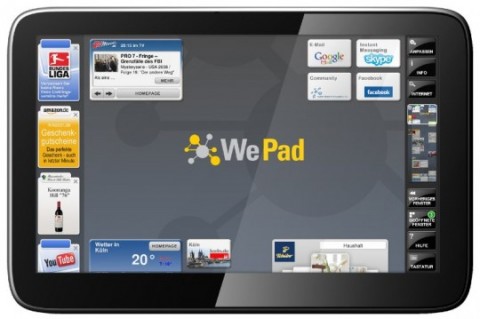 Both the WePads come with 11.6 " 1366×768 touchscreen, two USB 2.0 ports, and a battery that provides upto 6 hours of runtime. The tablet will also have  a memory card reader supporting upto 32GB of external storage, ambient light sensor, accelerometer, stereo speakers and an audio output. It will also support Flash playback and Adobe AIR and is capable of Full HD 1080p playback with the help of an integrated Broadcom HD decoder. An optional GPS connectivity is also available.
The WePad is the result of a collaboration between 4titoo and Neofonie, with Siemens, Intel and Adobe as partners. Preorders in Germany will start off on April 27th, with a soft-launch and limited  availability in July. There is no word at present about an international launch.
Via SlashGear