Motorola DROID to Get Android 2.1 OTA Update Starting Today
After a long wait, today we finally received confirmation from Verizon Wireless that the Android 2.1 OTA update for the Motorola DROID will be going out from today. The update has been officially served up on the servers and will be commencing to roll out at noon on the East coast.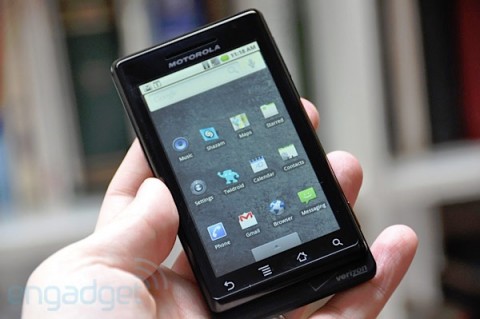 The OTA update which will involve lots of goodies will be released in stages, to make sure there are no problems with it.
First, 1000 handsets will receive the updates, and then by midnight, another 9000 will get updated. Then there is a waiting period of 24 hours to see if there are any problems with the 10000 updated handsets. After that, on the third day, which also happens to be April 1st, 200,000 DROID users will get the notification update at 11:59 PM. After that the updates will be released to the masses and keep running until all the DROIDs out there are updated.
The update will bring many new features to the DROID including the much awaited Live Wallpapers and Yahoo Mail capabilities. Also coming in is the 3D Gallery application which was first shown off on the Nexus One, as well as pinch-to-zoom support in Browser, Maps and Gallery. There will also be Speech-To-Text support on all text fields, and in case you didn't already get it from the Android Market, Google Goggles will be pre-loaded on to your device.
So thats a pretty big update coming up for all you DROID users. Maybe one of the first 1000 can release the install file so that those who want to get it can do so without waiting for Verizon to roll it out.
Via Engadget