Dell Mini 3i more details confirmed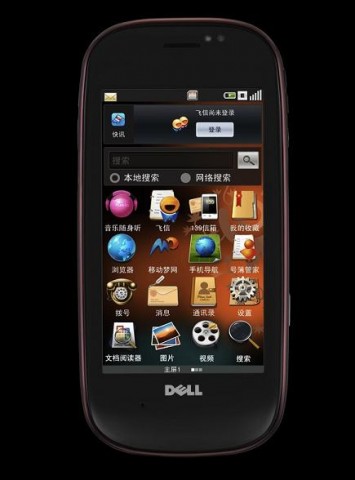 Leaks and rumours have been going around regarding Dell's upcoming android handset, the Dell Mini 3i, soon to be released in China. Now, thanks to a China Mobile press release, more confirmed details have now come out regarding the smartphone. The Mini 3i will be available on China Mobile, whcih is the world's largest mobile service provider, with over 500 million subscribers. It will come in both "Red Passion" and "Oiled Bronze" variants later this month.
Here is what is known so far about device. Like most other high-end phones today, the Dell Mini 3i will feature a 3.5" touchscreen display with a wide 640×360 pixels resolution. It will have quadband GSM/EDGE connectivity, Wi-Fi, Bluetooth, and GPS  navigation with inbuilt receiver. The camera is of 3 megapixels and will have digital zoom, autofocus, flash and video recording capability. external storage can be added in the form of microSD cards of upto 32GB. The Mini 3i will run on the OPhone platform, which is a Chinese-made mod of the Google Android operating system.
The Dell Mini 3i marks Dell's first venture into the smartphone market, and is the result of an year long collaboration between Dell and China Mobile. Earlier this year, Dell had brought out the 3G capable Dell Mini 10 netbook in China in co-operation with China Mobile. It is not known when the Dell Mini 3i will become available outside of China.
Via BoyGeniusReport