Nokia X6 Touchscreen Mobile Released
In midst of all the Android + Droid mayhem, Nokia has released its latest touchscreen offering, the Nokia X6. Unlike its predecessor, the 5800 XpressMusic, the X6 will boast a capacitive touchscreen which is much more precise and sensitive than the resistive touchscreens used in the former.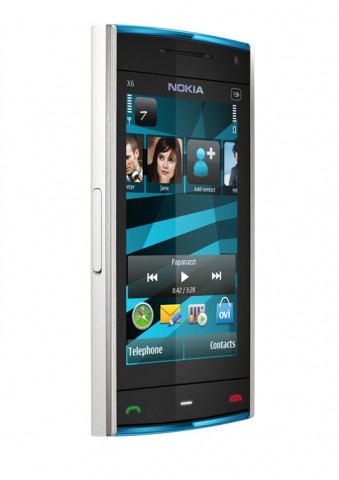 It also packs a 5-megapixel camera with LED flash and a whooping 32GB of internal storage. The smartphone is available at an off-contract price of 450 Euros ( $667 ) but is likely to be subsidized by carriers soon.
The device will run on the same Symbian S60 OS that powers their flagship device, the N97, and will have a 640×360 widescreen resolution on the 3.2" display. Physical keys are included for Application launch, Send and End, Power, Camera, Lock and Volume Control. There is also a Dedicated Media Bar touch key for access to music, gallery and browser. You can get online through Wi-Fi and 3G networks, although in its current form North American 3G frequencies are not supported.Other fancy stuff include GPS, TV Out, Accelerometer for motion sensing in a candybar package, 111.0 x 51.0 x 13.8 mm weighing 122 grams.
[Via Electronista]