Pioneer debuts CDJ-2000 Digital Turntable
Among DJs, Pioneer's revolutionary CDJ-1000 turntable has become a landmark and almost an industry standard. Following on its trail, Pioneer has now launched its latest product in the line, the CDJ-2000 Digital Turntable with its large vinyl-style wheel and exceptionally precise controls.
The biggest enhancement in the CDJ-2000 from its predecessors is a huge WQVGA 6.1-inch LCD panel that can display a wide range of data from song titles and jacket art to wave data of each song for use by DJs. There is also a touchpad under the display, called the "Needle Pad" which lets you skip to different parts  of the song.
The turntable can also act as a MIDI controller for other devices by utilizing its 35 buttons to do whatever you like. It has a built in 24-bit sound card which can be plugged into a computer to control software like Traktor and Serato and also a music organization system called "rekordbox1" which can keep track of played music files along with their BPM, waveform data and any cue points etc. which you can set. It also has a "Pro DJ Link" system that can share content between multiple devices.
Pioneer has also announced an upgrade for its CDJ-800, the CDJ-900, which has most of the features other than the display.
The Pioneer CDJ-2000 will be available in November for $2150 and the CDJ-900 will arrive in December priced at $1600.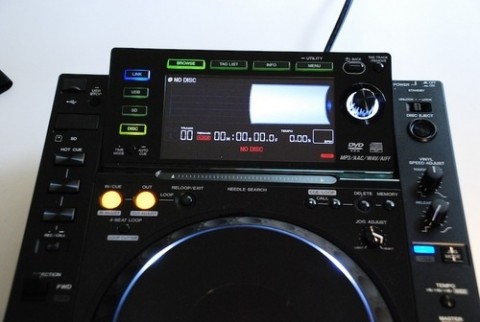 [Via Gizmodo]