MSI WindPad 100 and 110 tablets unveiled at Computex 2010
MSI announced their entries into the tablet market today at the Computex 2010, by unveiling their new WindPad 100 and 110 tablets. The WindPad 100 runs on an Intel Atom Z530 CPU and is speedy enough to run Windows 7 Home Premium with which it comes preloaded. MSI has also added on a custom UI on top of the OS called the WindTouch UI.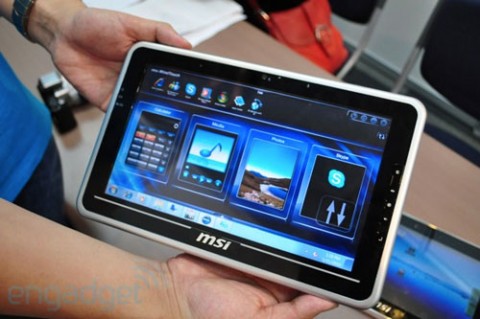 The WindPad 110 on the other hand is an Android slate powered by an NVIDIA Tegra 2 processor. Both the devices sport 10 inch capacitive touchscreens and have USB and Video out capability.
The WindPad 100 weighs incredibly light at just 1.7 pounds and will have 2GB of RAM and a 32GB SSD for storage. The WindTouch UI layer is a basic skin on top of Windows that helps for quick access to common applications. It will also have two USB ports, HDMI and a webcam. The WindPad 100 is slated to hit the market later this year with a pricetag of $499.
The WindPad 110 on the other hand was much more mysterious in that there was no concrete info on its pricing or availability. The prototype tablet shown runs on stock Android 2.1 and unconfirmed information says it will be going on sale at $399 by the end of the year.