Samsung pioneers 20-nm NAND flash memory technology – aiming for cheaper, faster SD cards
Right on the heels of Toshiba's announcement to start on sub-25nm flash memory, Samsung today announced the industry's first production of 20 nanometer class NAND chips for use in SD cards. Samsung's 20nm MLC 32-gigabit NAND chips are sampling now for use in embedded storage and SD memory cards ranging from 4GB to 64GB. This is a significant step forward for Samsung who started its 30nm production just one year ago. The new class of memory chips will allow for higher-density in storage, lower manufacturing costs and 50% higher productivity than 30nm technology.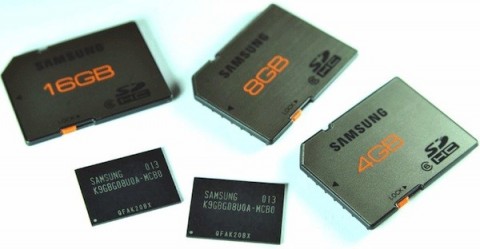 Along with decrease in costs and higher densities, Samsung has also claimed that the new chips to be more reliable and upto 30% faster than the chips in its existing SD cards. With the adoption of the new 20nm chips, we will be seeing cheaper Class 10 SD Cards ( 20MBps read, 10MBps write). The new SD cards are expected to ship later this year.
Source : Samsung Via SlashGear