Microsoft Reveals Kin One and Kin Two Windows Cellphones
There's been some talk about Microsoft's "Pink" project lately, and now we've got to see what it's all about – Microsoft have shown that it's actually two phones coming from Sharp, named the Kin One and Kin Two. They're supposedly running Windows, though there's a catch.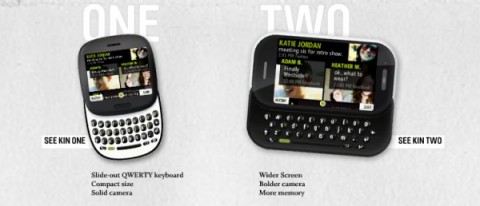 Even though their OS's base is Windows Phone 7, the interface has been completely revamped, paying heavy attention to the social aspect of using the device, there's also a custom web browser (allegedly based on the Zune one), but no word on third-party app support.
They both come equipped with capacitive multitouch displays, but from what we hear the browser doesn't support either Flash nor Silverlight, which will probably limit the usefulness of the cellphones for web usage – though of course not stripping it completely.
Look for 4 GB of memory on the One version as opposed to 8 GB on the Two one, and a 5 megapixel and 8 megapixel cameras accordingly. There are other differences as well, basically making the Two the higher-end choice.
[ Via Engadget ]