Research in Motion working on a tablet?
After Apple, is RIM next? The manufacturer of the Blackberry, which has a virtual monopoly on mobile devices for business use. Till now they have pretty much sticked to making mobile handsets and smartphones. But that may be changing. From certain sources in the Asian component supply chain, Blackberry maybe working on a tablet device.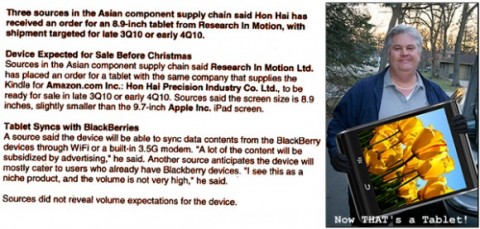 According to sources, RIM has been working with a company called Hon Hai Precision Co. Ltd. which manufactures large touchscreens. Apparently they have been working together on 8.9-inch touchscreens. Now we can't think of any use for such screens other than for a tablet device. Along with that, it is said that the device will have a 3.5G modem inside, and WiFi so that the device can sync with existing BlackBerry devices. According to the rumor, the tablet would be going on sale in late Q3 2010 or early Q4 2010.
Nothing substantial is know at the moment other than that. So we will have to wait for more information to come out before we get into the details.
Via SlashPhone