Next-gen iPhone may get Camera-based Finger-swiping gesture controls.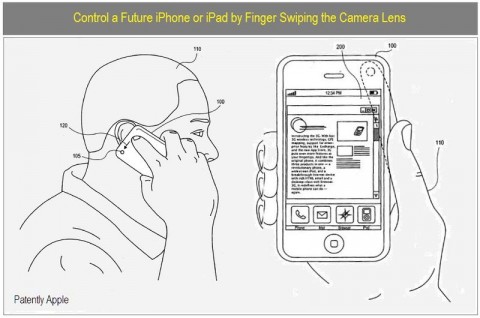 Patent applications are frequently one of the biggest sources of rumors in the technology industry. On Feb 25,2010, the US Patent & Trademark Office published one such patent application by Apple that has helped fuel more rumors about the upcoming next generation iPhone, the iPhone 4G. The patent involves a new concept in which the user can control their incoming calls and voicemail by simply swiping their finger over the camera lens. With this you can control rewinding and fast-forwarding of voicemail.
More details below.
With the new system, you may also be able to navigate your iTunes library, contact list or even webpages by swiping your finger in different directions.  In case of the iPad, if they ever implement this on it, it would involve flicking the finger over the lens to turn a page in a book or scroll a webpage without even moving your hand.
Apple's patent Figure 1 shows a front-side camera for use for a telephone call or voicemail retrieval. Another figure shows a user swiping his finger on the back-side camera, with the same hand with which he is holding the phone to control the call or voicemail playback. Of course, the user need not touch the camera lens to give the commands. There is also plan to use "tap-detection", with which, a simple tap on the phone with the finger can be used to control various aspects of the phone such as cutting a call, merging calls etc.
The patent was originally filed in Q3 2008, meaning that Apple had sufficient time to develop the system. Unlike some of the other "improvements" supposed to be present in the next-gen iPhone,  this one actually seems very innovative.
Source : Patently Apple via SlashGear