Nikon CoolPix P100 Superzoom Camera Does 1080p, Comes Up For Pre-order
Nikon CoolPix P100, the compact superzoom camera that got straight to our hearts with its five-way stabilized 26x optical zoom lens, HDR functionality and the ability to shoot H.264 video at 1080p, has just become available with various retailes for a rather afforadable $400. Listed as a "shipping soon" device, the CoolPix P100 superzoom will probably hit your doorstep in three to five weeks if we're to believe the Amazon listing.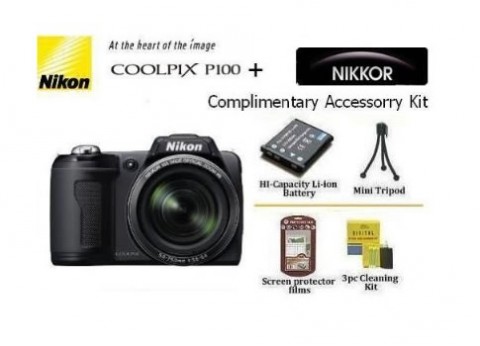 For those out of the know, the Nikon CoolPix P100 brings an enormous focal range (for a compact camera with a DSLR profile) together with high-speed shooting capability. The Nikon P100 comes with a backside-illuminated 10.3 megapixel CMOS sensor with ISO 3200 sensitivity, takes up to 10 full-resolution images-per-second of subjects close and far (macro shots at 0.4 inches) thanks to its fixed 26-678mm equivalent lens, and boasts a 3-inch 460,000-dot tilting LCD.
From what we're being told, Nikon P100 shoots in MOV (H.264) format at HD 1080p (1920 x 1080) 30fps, HD 720p (1280 x 720) 30fps, VGA (640 x 480) 30fps, or QVGA (320 x 240) 30fps.
It goes without question that images taken with the new Nikon CoolPix P100 will be quite amazing, so if you have the money and can wait for a month or so, that's one deal you shouldn't miss on.
Pre order it on Amazon