Nvidia ION 2 coming up with PineTrail in Q1 2010
Nvidia's Ion platform has been a very popular low power chipset which combines Intel's Atom processor with a GeForce 9400M GPU. It helped overcome the seriously lacking graphics capabilities of Intel's own GPUs. With its 1080p capability and small form factor, the Ion platform has been the base for many portable devices such as nettops and netbooks.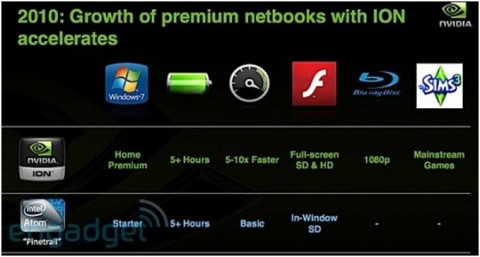 Now with Intel announcing their upcoming PineTrail platform for early 2010, nVidia has confirmed their plans to launch the Ion 2 platform which will be a PineTrail compatible version of its existing graphics chipset. Unlike its predecessor, the Ion 2 will be a standalone GPU rather than a Northbridge-GPU combo.
With many new netbooks coming up early next year, packing the new PineTrail processors, Ion 2 netbooks shouldn't be far behind. NVIDIA is promising full-screen HD capability as well as 1080p BluRay support in their GPU along with ability to play most mainstream games on netbook hardware. NVIDIA Ion 2 GPUs should be out early in Q1 2010.
Source : SlashGear