Google Maps Navigation App now available for Android 1.6
One of the biggest features of the Motorola Droid ( running Android 2.0 ), was the Google Maps Navigation app which offered turn-by-turn navigation features for free similar to what is offered by many other paid applications such as those from TomTom. The app comes with everything you would expect to find in a traditional GPS navigation system and has 3D views, turn-by-turn voice guidance for use while driving and automatic rerouting in case you miss a turn.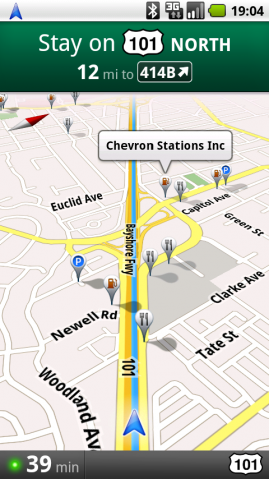 Now the same app has been made available to the users with phones running on the Android 1.6 software, such as the T-Mobile G1, myTouch 3G, Motorola CLIQ etc. Those who are using the HTC Hero or Eris will have to wait out for HTC and your respective carriers to put out an Android 1.6 update before you get to use Google Maps Navigation.
The Google Maps Navigation app is designed to use your phone's internet connection to get the map data as well as business listings live from Google Maps. This means you never have to spend anything to by updated maps for your device. You can even search using plain English by typing in the name of a business or landmark into the search box. While driving, you can even use the "Search by voice" feature to actually tell it where you want to go. If you turn on the satellite layer, you get high resolution 3D satellite imagery added to your display. There is also the new Layers features which enables you to overlay geographical information on the map.
So if you are going traveling this Thanksgiving, and have a stable internet connection on your phone, you can check out the new Google Maps Navigation to use as your personal navigator.