Blackberry Storm2 coming to you from Verizon, this Wednesday
Verizon has just made an announcement that will have all the Blackberry fanboys jumping with joy. The new BlackBerry Storm2 will be rolling into your local Verizon dealer's place this coming Wednesday ( 28 October ). The new Blackberry, running the Blackberry OS 5.0, packs a lot of new hardware and software enhancements, some of which include the SurePress "clickable" display technology and built-in Wi-Fi connectivity. It is capable of " delivering the exceptional multimedia experience and communications capabilities customers have come to expect from their BlackBerry smartphones" according to RIM.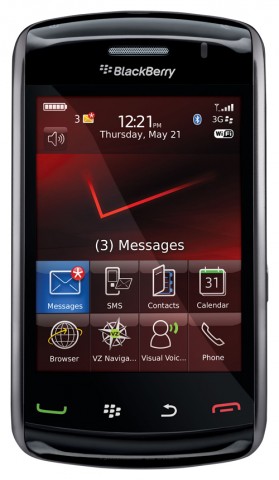 Highlights of the new phone include a smooth design with chrome accents , sloped edges and a stainless steel backplate, a large 3.25" dazzling display with capacitive touchscreen, 3G connectivity and more.
The Storm 2 is aimed at removing the bad aftertaste left by its predecessor, Blackberry Storm which got a very bad reception in general. The new Storm touts a comparatively large 3.25" capacitive touchscreen display with a 480 x 360 pixel resolution. It includes a 3.2 megapixel camera with flash, autofocus and image stabilization. Connectivity options include WiFi, Bluetooth, 3G, quad-band EDGE/GPRS/GSM  and EVDO support. There is also GPS support for maps and location-based services such as photo geotagging, a 1400 mAh batter that gives upto 5.5 hours of talktime or up to 11.2 days of standby time. There is 2GB of on-board media storage which can be expanded by a microSD card.
In terms of software, the Storm 2 touts the new Blackberry OS 5.0, with new features that include typing accuracy and selection improvements, and visual enhancements such as inertial scrolling, spinboxes which make it easier to set times and dates, gradient shading on buttons and more animation effects.
The BlackBerry Storm 2 will be available from October 28 from Verizon dealers as well as online from verizonwireless.com for $179.99, after a $100 mail-in rebate when you go in for a 2 year contract. Check http://www.verizonwireless.com/storm for more details.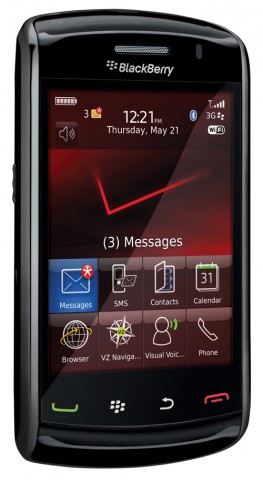 [Via BoyGeniusReport]