HTC Desire Confirmed for Verizon Courtesy of an Image Leak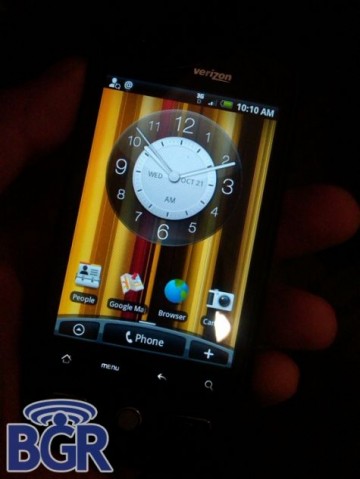 Verizon Wireless is determined to have the best Android devices listed on its retail store and as if the mammoth Droid wasn't enough, an HTC Desire image has surfaced with a Verizon logo. The image may remind you of the HTC Hero and that is nothing unusual as the Desire also sports the Sense UI just like the Hero from Sprint. What is still a mystery is whether the Desire will come with the latest Android version 2.0 or the previous one.
Being a Verizon baby, the desire will predictably support CDMA2000 1xRTT/1xEV-DO rev.0/1xEV-DO rev.A and will run on dual bands 800/1900 MHz.
The users of the HTC Hero will be pleased with the Desire's arrival for then HTC will have to think about the Sense UI upgrades-just that the Desire should arrive with 1.6 or 2.0.
The tipster that forwarded the image to BGR claims that the the Desire is an extremely fast phone so you can keep guessing the processor but please do not tell me it is a Snapdragon.
We are desperate to know the release date of the Desire as it is seemingly another magical Android device. [via: BGR]